TWI holds successful cold spray technology course
---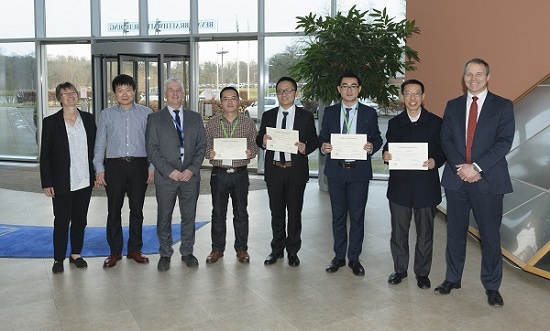 Drawing on over 10 years' experience, TWI recently held a successful two-day course on cold spray technology.
The cold spray team at TWI has a wealth of experience following the installation of one of the first mechanised, high-pressure cold spray systems in the UK back in 2007. Plus, the last two years has seen TWI run a new state-of-the-art Impact Innovations 5/11 cold spray system. Combining applied research and technology transfer has placed TWI in a unique position to offer training in this area.
The training course was attended by people from the UK's Welding Alloys Group, Bharat Forge Ltd from India, Dutch company KLM Engineering and Maintenance, TitanE Vallourec of France, and three of TWI's PhD students, currently undertaking research into cold spray.
The course, which ran on 19 and 20 September 2017, was designed for materials and design engineers who are looking into the use of cold spray as a coating, repair or additive manufacturing technology. The aim of the training was to offer an appreciation of where cold spray fits into the wider scope of thermal spray technology, surface engineering and coating processes.
Attendees were provided with an introduction to cold spray technology principles and processes alongside a comparison to other coating and repair processes. The training also included installation and demonstrations as well as information about characterisation and properties, corrosion, mechanical testing, applications, research, and using cold spray for repair.
This course, which was presented by TWI's cold spray specialists, Dave Harvey, Heidi Lovelock and Phil McNutt, was not the only cold spray course that TWI has held in recent times.
TWI also provided a cold spray training course for Chinese Industrial Member, Southwest Institute of Technique and Engineering (SITE). This course is an example of the bespoke training courses that TWI can provide to individual companies.
Attendees at both courses were presented with certificates of participation. WI plans to offer more cold spray training in 2018.
For more information, please Contact Us.
TWI is a world leading research and technology organisation with a focus on materials, engineering and manufacturing.