Sentinel satellites offer agri-tech business opportunity
---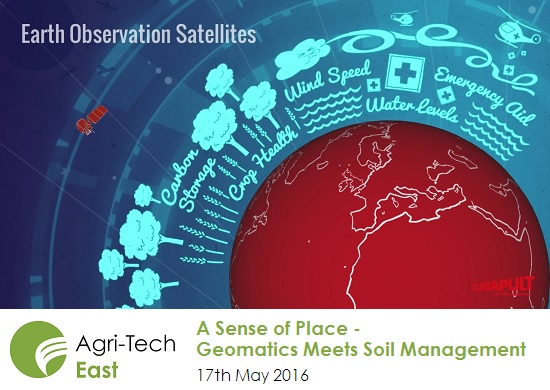 An Agri-Tech East event on Tuesday 17th May will discuss the use and impact of geospatial data on agriculture.
The recent launch of the new Sentinel satellites, part of the European Union's Copernicus Earth observation programme, has the potential to help farmers take precision agriculture to a new level, along with a host of other land monitoring uses. Sentinel data will create a major opportunity for service providers, and can be applied within agri-tech.
Vladimir Stoiljkovic is Business Development Manager at the Satellite Applications Catapult and will be attending the Agri-Tech East workshop "A Sense of Place - Geomatics Meets Soil Management" on 17th May. He says: "The integration of free Sentinel satellite data sets with other data sets offers the potential for improved precision farming products and services."
Sentinel is part of the Copernicus Earth observation programme, which includes six families of satellites, each with a different focus, and thousands of sensors in land, sea and air to help monitor Earth. This satellite network provides data sources that could be used for precision farming, disease prediction or drought warning.
Stoiljkovic continues: "The European Space Agency's Sentinel satellites will provide high resolution optical, radar and altimetry data about land and sea temperatures. The most interesting for agri-tech are Sentinel 1 and 2, which will provide global land cover."
Sentinel-1 offers radar imaging, which cuts through any cloud cover and can be used to monitor crop growth/health.
Although the data sets from the Sentinel satellites are free of charge, some of them require additional analysis to be useable, which creates a business opportunity for service providers.
"The issue with satellite imaging has been the resolution," says Stoiljkovic. "Free data is available to 10m resolution but it is now possible to purchase data with a resolution of 31cm, which can be used to evaluate crop growth.
"Emerging technology has shown it is possible to identify the growth stage of crops, which could be extremely valuable when timing the application of fertilisers and irrigation. We have found that some of the larger grower groups are employing satellite data analysts to create these types of models."
Thierry Gregorius, of Exprodat, whose background is in the oil and gas industry, agrees that geomatics is becoming more mainstream in agri-tech: "Geomatics is all about using the power of location when data is collected, analysed and presented. It's difficult to see patterns in spreadsheets. The simple act of plotting data on a map can reveal insights that would otherwise remain hidden.
"With today's technologies, you don't even have to wait to see the results: you can update the map as you collect data in the field – and start interpreting the results straight away."
One company developing an app to do just this is fieldmargin. The company enables detailed mapping to be captured on the phone so it is available without a mobile signal. The farmer or contractor can then annotate the maps with information about location of problems such as blackgrass and to record tasks and actions required. The app synchs with the main computer once the farmer is back in the office.
The Agri-Tech East Special Interest Group meeting "A Sense of Place - Geomatics Meets Soil Management"  (at Elmdonbury, Elmdon, Nr Saffron Walden, Essex, CB11 4NF) on 17th May will provide technology developers with an opportunity to meet farmers and growers and understand better how to bring a geo-spatial focus to information gathering. There will also be discussion of how data from different sources could be integrated and what users would require from this.
Find out more at www.agritech-east.co.uk/events
[Image courtesy of Satellite Applications Catapult]
________________________________________________
Agri-TechE is a business focused membership organisation, supporting the growth of a world-leading network of innovative farmers, producers, scientists, technologists and entrepreneurs who share a vision of increasing the productivity, profitability and sustainability of agriculture.
Together we aim to help turn challenges into business opportunities and facilitate mutually beneficial collaboration.