Don't miss out on the chance to reach hundreds of high calibre jobseekers through a single site! If you're on the lookout for talent, look no further.
Promotion: We promote Cambridge as the region of choice for jobseekers from around the world, enabling employer organisations large and small to find and attract the quality candidates they seek.
Wide reach: Through jobs boards, social media, advertising and popular virtual jobs and careers fairs, we connect employers with potential candidates near and far - and save you £1000s in recruitment costs.
Easy to use portal: Our web-based tool enables you to advertise vacancies and manage applications seamlessly from your own website back office.  Our portal covers all types of opportunities in every kind of business, with roles for new graduates, interns and administrative staff advertised alongside those for seasoned technologists, scientists and other professionals.
How to post jobs: Once you have requested to purchase a recruitment package, simply login to your members area to add, edit or view vacancies. Contact us at any time if you need help.
How to advertise your jobs
We are excited to bring more flexibility and exposure to your job adverts with our Recruitment Packages. If you'd like to find out more, or add a package to your membership, please email recruitment@cambridgenetwork.co.uk
Please note: Recruitment packages run alongside membership and will be billed separately. An active membership is required to use the recruitment packages.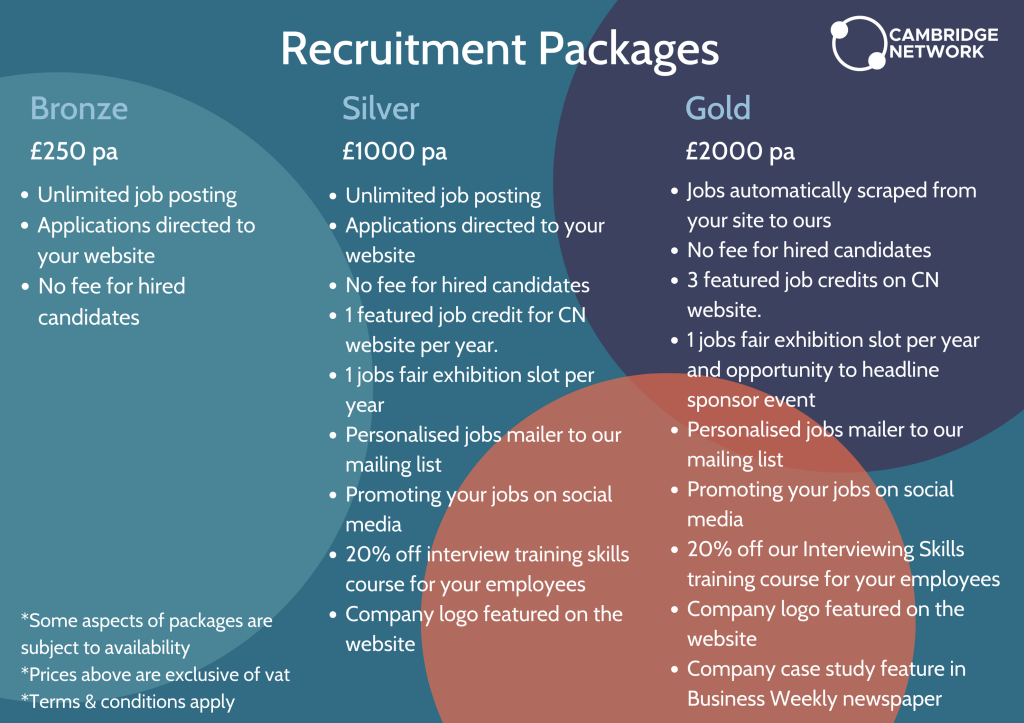 View our terms and conditions here 
"Recruitment Gateway encourages growth into the area by understanding Cambridge Design Partnership's business, recognising the type of staff we are looking for whilst at the same time promoting Cambridge as an excellent place to work"

Heidi Cane
Cambridge Design Partnership