Spark partners with Hyundai, Wayra and the Connected Places Catapult to drive greater electric vehicle adoption
---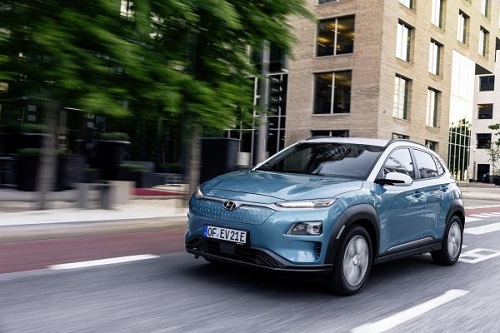 Extensive real-world range prediction trials saw Hyundai Kona EV models equipped with Spark's technology for a month.
Spark EV Technology today announced that it has completed extensive trials of its electric vehicle (EV) range prediction technology with Hyundai. Carried out as part of the prestigious Wayra UK/Connected Places Catapult Intelligent Mobility (IM) Accelerator programme, the one month real-world trials using Hyundai electric vehicles successfully demonstrated that Spark increases the accuracy of EV journey predictions.
This greater accuracy builds driver trust that they will be able to reach their destination without needing to recharge, and consequently helps accelerate the adoption of EVs. Having worked closely with Hyundai, Wayra and the Connected Places Catapult during the accelerator programme, the partners are now exploring potential deeper, future collaborations.
"At Hyundai we are focused on innovation, which is why we are delighted to support the IM Accelerator programme," said Doctor Michael Winkler, Head of Powertrain Department, Hyundai Motor Europe Technical Center GmbH (HMETC). "Spark's innovative technology and vision aligns closely with our own aims for electric vehicles, and by running real-world trials we have evaluated the potential of its solution and the benefits it brings."
Spark's software uses live data from the vehicle, driver and atmospherics to deliver more accurate, personalised journey predictions for EVs, adapted to every driver. By applying proprietary machine learning algorithms Spark continually learns and improves prediction accuracy after each journey. Accurate predictions help overcome range anxiety and increase driver trust, therefore driving greater adoption of electric vehicles by both businesses and consumers. In real-world tests on a variety of EVs, Spark's technology has proved to be significantly more accurate than existing in-vehicle systems.
"Our collaboration with Hyundai is testament to the value of the IM Accelerator programme, and its ability to bring together innovative start-ups and major brands to solve key issues within the mobility market," said Justin Ott, CEO, Spark EV Technology. "We look forward to moving ahead with Hyundai, Wayra and the Connected Places Catapult and further developing our partnership to benefit drivers."
The IM Accelerator, a partnership between the Connected Places Catapult and Wayra UK, is designed to attract disruptive start-ups with high-growth potential into the UK transport supply chain, while helping them grow into world-leading companies. It is based in Milton Keynes and selects a cohort of six to 10 companies for each programme.
 "We're moving rapidly towards a new era of mobility that will rely on breakthrough innovation to meet future transport challenges," said Gary Stewart, Director of Wayra UK. "That's why we launched the Intelligent Mobility Accelerator, and it is extremely positive to see how it has helped Spark to scale its business and build this exciting, collaboration with Hyundai."
"At the Connected Places Catapult we're dedicated to supporting the next generation of UK innovators and helping them become leaders in the £1.4 trillion emerging global Intelligent Mobility market," said Alex Weedon, Director – SME Strategy, Connected Places Catapult. "Spark's world-leading technology solves a key issue holding back EV adoption and we're pleased to support them as they move forward on a global scale."
About Spark EV Technology
Driven by air quality concerns, global legislation is accelerating the adoption of electric vehicles (EVs). However, drivers and automotive companies face multiple challenges with EVs, including overcoming range and time anxiety, and building vehicle trust.
By delivering more personalised journey predictions, based on actual driving style, topography and current atmospheric conditions, Spark's proprietary technology overcomes these issues by providing more tailored, more accurate journey predictions. As Spark's AI algorithms learn with every journey, it continually improves the accuracy of personalised journey predictions, adapting to every driver.
Spark's technology is aimed at automotive companies, mobility providers and tier 1 electronics OEMs. Deployed via software development kit (SDK) embedded into a SatNav, it enables them to build driver trust and consequently accelerate EV sales. Research carried out by the University of Cambridge's Judge Business School and Rotman Institute estimates that the global market for EV prediction solutions will rise to at least £1.1bn by 2023.
Developed in Cambridge, UK, Spark combines the company's own research with work from the University of Essex. Spark's technology has been recognised through a range of partnerships and selection for prestigious global start-up and accelerator programmes. Spark has received initial investment from angel and early stage funds and is now launching a new investment round to accelerate growth across Europe, China and the US. Find out more at https://www.sparkevtechnology.com/.
Maximising utilisation for electric vehicles