Material newly available to view online includes Clementine Churchill's photo albums, plus a selection of her letters to Winston Churchill, such as one hurriedly written in crayon in 1914, where Clementine begged Winston not to fly. Like many of her letters, she signed it off with a doodle of a cat.
The Access Portal is open to all, and a useful resource for researchers, teachers and anyone looking to examine British history from mid-twentieth century onward. It can be accessed by visiting https://oa.churchillarchives.libnova.com. It provides a window into the collections of the Archives Centre, which includes digital images of documents, photo albums, correspondence, alongside oral history interviews and video footage.
The Access Portal also shares a lifetime of letters from Sarah Churchill to her mother, Clementine, from childhood and schooldays to her career as a dancer and actress, including a wartime interlude in the Women's Auxiliary Air Force when she accompanied her father, Winston, to the Yalta Conference
Visitors can also find a selection of private diaries penned by diplomat Alexander Cadogan, dating from the 1930s and 40s, where he wrote about colleagues and foreign policy making in characteristically brisk and candid style.
Recordings of the biennial Roskill Lecture, a lecture series, have also been added to the Portal. The lecture series, covering topics such as international security, foreign policy, war, public policy, and the history of science, was initially set up to honour the Senior Research Fellow and historian, Captain Stephen Roskill, who played a vital role in setting up the Archives Centre.
They are joined by over 100 podcast interviews with female MPs, which were originally broadcast on Women's Parliamentary Radio, covering subjects such as the centenary of women's suffrage to debates over Brexit.
Over the coming months, the team will be adding more material to the Access Portal.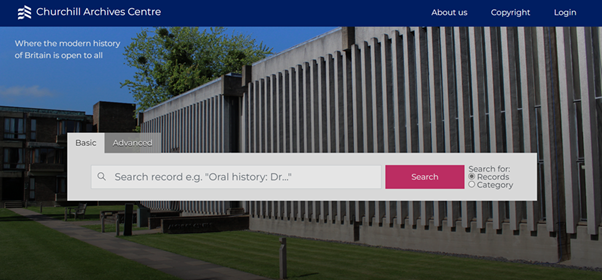 This new Access Portal supplements a range of other freely access historical documents, including documents relating to Margaret Thatcher via the Margaret Thatcher Foundation, as well as classroom-ready resources centered on the Churchill era via the Churchill Archives for Schools website.
Professor Dame Athene Donald, Master of Churchill College, said: "Since joining the College, I have found the Archives Centre to be a special place, offering so much to individuals at every stage of their career. I am grateful to all here at Churchill College who have contributed to its inception, growth and continuing success. It is a truly unique resource for the study of so many aspects of our recent past."
Allen Packwood, Director of the Churchill Archives Centre said: "The main challenge of our first half century was to create something sustainable: to gather the collections, to build the Archives Centre and to put in place the funding to secure the operation for the longer term. Going forward, we will need to be imaginative in growing access, widening participation, embracing new technologies and providing more remote services. In that sense, the Access Portal is a very real link between the past and the future, a vital first step in helping to take the raw material of history to a wider audience."
The Access Portal launch is part of a year of celebrations to mark the 50th Anniversary of the Churchill Archives Centre. The team have also launched its '50 stories for 50 years' series which spotlights stories told by our researchers, staff, and volunteers about their experiences at the Archives Centre.
The highlight of the Anniversary celebrations will be a free 2-day conference on the 25th and 26th September, open to the public and featuring a range of high-profile speakers and researchers. It will be held in-person and streamed online and will explore the history of the Archives Centre, its impact, and what the future of Archives might look like.
To book a place, see https://www.chu.cam.ac.uk/event/celebrating-preservation-and-access/