One person dies on-farm every two weeks: life-saving agri-tech launched
---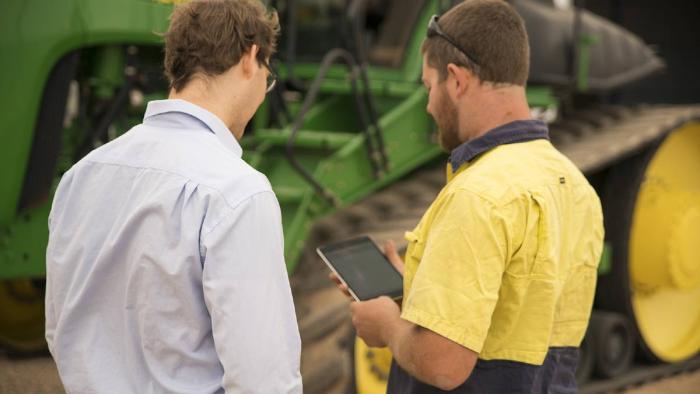 Digital technologies aim to embed safety and compliance into farm culture.
Thirty-four people died on-farm during the past 12 months (HSE March 2021), with the greatest risk coming from machinery, working at a height or with livestock. Innovations to address these challenges are to be announced at an Agri-TechE event on 24th May, including a machinery audit activated by QR code, an innovative risk assessment tool, and motion sensor alerts for moving machinery.
Agri-TechE director Dr Belinda Clarke comments: "One of the consequences of Covid-19 is that more people are using digital technologies for a greater range of applications. This creates a huge opportunity for making safety and compliance part of the culture on-farm. It would be possible to embed safety into the workplace by making it easy to access timely information, record incidents as they happen and set up alerts to danger."
Farm 365
At the event – 'Improving Farm Safety with Innovative Agri-Tech' – Farm365 is to launch a machinery safety and audit app that is triggered by scanning a QR code located on the equipment; Safe Ag Systems will preview a free interactive risk assessment tool that enables compliance with ISO31000; and Pathfindr are to discuss a wearable that alerts the user to moving machinery.
The concept for Farm365 came from founder Elizabeth Creed, a farm safety consultant.
She says:"We're losing somebody in agriculture every two weeks. I thought 'there is technology for everything else on-farm, but most health and safety monitoring is paper-based – we've got to start doing something differently'."
This realisation drove Elizabeth to develop Farm365, an app that makes easy work of keeping up with machine safety checks and food compliance audits. Scanning a QR code on a piece of machinery brings up associated documentation, created bespoke for the farm, including pre-work checklists, date of previous machine service or food safety checks. The app is be launched at the event.
Safe Ag Systems
For Katy Landt, it was a near-miss at the family farm in Australia that persuaded her to launch Safe Ag Systems, with the aim of making it easier to embed a safe working culture into the business and to gain efficiencies. She says that incidents are most likely in the over-60s and in a new and untrained workforce.
Katy says: "Fatigue and working alone, in remote areas, is a huge contributor to the statistics. The reality is that we can't eliminate all of these risks but what we can do is reduce them."
Safe Ag Systems captures records across employment, company policy and any type of procedure. The product is also a great tool to educate workers, capture chemical or fuel usage, report hazards and alert someone to an emergency. The aim is to connect real time evidence directly into an audit assessment form such as Red Tractor or Global Gap. It is set to launch a free interactive Risk Assessment Tool in June 2021.
Pathfindr
Ben Sturgess, founder and CTO of Pathfindr, will also be speaking at 'Improving Farm Safety with Innovative Agri-Tech'. His company is developing a wearable solution to address the high rate of vehicle related injury in agriculture.
"Pathfindr has an existing wearable product which uses ultra-wideband (UWB) technology that sets off an alarm when a safe threshold is breached," Ben explains. "We are exploring the use of UWB as an alarm to help keep workers away from moving machinery, especially in noisy environments where it may be harder to detect vehicles approaching out of view."
The event is to be chaired by Ben Turner, Director of Ben Burgess, which holds the Royal Warrant as suppliers of agricultural machinery.
Find out more at agri-tech-e.co.uk
To hear more on how farm tech can play a role in preventing injury and death, join speakers Katy Landt, CEO of Safe Ag Systems, Ben Turner, Director of Ben Burgess, Elizabeth Creed, CEO of Farm365, Ben Sturgess, Founder and CTO of Pathfindr, and Stuart McClimont, Technical and Standards Director at the Agricultural Engineers Association, for the Agri-TechE event: 'Improving Farm Safety With Innovative Agri-Tech' on Monday 24th May at 2:00 pm - 4:00 pm.
Image: Digital technologies help to embed safety into the culture (Credit Safe Ag Systems)
Agri-TechE is a business focused membership organisation, supporting the growth of a world-leading network of innovative farmers, producers, scientists, technologists and entrepreneurs who share a vision of increasing the productivity, profitability and sustainability of agriculture.
Together we aim to help turn challenges into business opportunities and facilitate mutually beneficial collaboration.