Negotiation Skills Training Course
Overview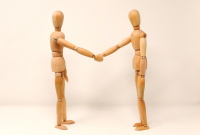 The aim of this programme is to explore the techniques and behaviours used by skilled negotiators and the importance of developing a sound negotiation strategy, which takes full account of the context in which the negotiation takes place.
The ability to effectively negotiate is essential in modern business – within your organisation individuals will most certainly be involved in some sort of negotiation at one time or another.  The kind of negotiation may vary though, from getting managers to delegate more to negotiating a long-term supplier agreement.
Aim
"To learn about the techniques and behaviours used by skilled negotiators, and the importance of having a sound negotiation strategy."
Learning objectives
Find ways to reach win-win agreements

Review the key principles of negotiation

Controlling the negotiation process

Identify the characteristics of the successful negotiator

Identify strengths and development areas with your current negotiation skills
Content
Developing a Negotiators Mindset
The danger of old habits
Creativity inside negotiation
Principles of negotiation (MFP-LL)
Developing good habits (1-4)
Personal case work  
Controlling the Process
The negotiation process (5 steps)
More good habits (5-8)
The value of preparation
Case study with feedback and learning
Personal Casework
Games People Play
Strategies and tactics
Breaking deadlocks
Avoiding the pitfalls (Attitude/Behaviour)
Case Study with feedback and learning  
Board of Encouragement
Personal case work
Practice with learning and feedback
Board of encouragement
Summary and Close
Course details
| | |
| --- | --- |
| Duration: 1 Day + pre work | Credits: 1.9 |
| Max. Delegates: 12 | Member Cost: £290.00+VAT |
|   | Non-member Cost: £435.00+VAT |
Image by Alexas_Fotos on Pixabay.