Agri-tech innovation offers response to global challenges
---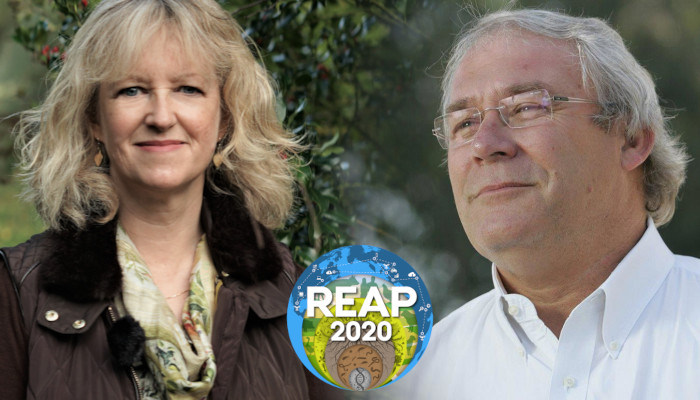 International farmers, researchers and tech entrepreneurs come together to pursue the goal of sustainable, productive and profitable agriculture.
Innovation in agri-tech has the potential to address many global sustainability and productivity challenges in agriculture, but to be effective requires an interconnected view of natural systems and collaborative solutions. To explore how they can work together on mutual challenges, a number of international players announced initiatives at Agri-TechE's REAP 2020 conference.
Announcements include:
New partnership with Western Growers – the organisation represents family farmers across California, Arizona, Colorado and New Mexico, who provide over half of America's fresh fruits, vegetables and tree nut; it is partnering with Agri-TechE to accelerate innovation in field harvest automation.
A new mission with the British Embassy Warsaw – farmers and agri-tech companies from a consortium of four countries – Poland, Hungary, Czech Republic and Slovakia – will meet Agri-TechE members.
Next stage in the relationship with Missouri agri-tech ecosystem – the heartland for 50 per cent of US crop and livestock production. New programme for 2020 announced in partnership with Agri-TechE.
Oost Netherlands joins Agri-TechE as members – Oost NL represents farmers, agri-tech companies and researchers keen to strengthen links with UK agri-tech innovation.
South Korea's Chonnam National University – offers members of the Agri-TechE ecosystem a launchpad for Asia. Chonnam province and Gwangju city is the core of agriculture production for South Korea.
Dr Belinda Clarke, Director of the Agri-TechE innovation hub, comments: "The theme for REAP 2020 is 'From micro-scape to landscape – Innovating at the frontier', acknowledging that small changes in the micro-scape can have big impacts on the landscape and vice versa. It is interactions on a microbial scale in soils that drive the carbon cycle and impact climate change.

"To achieve the global ambitions for agriculture, food production and land management, we need a much better understanding of how systems at these different scales operate and interact. We are delighted that this vision is shared by other agri-tech communities as this will create the global scale needed to make real change."
Dennis Donohue, Director of Western Growers Center for Innovation & Technology (WGCIT), agrees: "We have some big challenges facing us, such as extreme weather, need for harvesting automation, concerns about resistance to pesticides, and water shortages.
"We didn't want to reinvent the wheel so we decided to find out what agri-tech is out there and to start a conversation. With Agri-TechE, we saw the potential to create a viable relationship that would accelerate the development of solutions, and ultimately, solve the issues our growers are facing."
WGCIT is a premiere U.S.-based agtech incubator, and has partnered with Agri-TechE to accelerate innovation in field harvest automation. The partnership will focus on connecting farmers, scientists, academics, technologists and entrepreneurs in both the United States and United Kingdom to collaborate on shared strategic priorities—most notably, field harvest automation and food safety solutions.
The need for international collaboration is shared by Remco Lucassen, Director of Trade Development at Oost NL, and Michiel van Deursen, Projects Director of the Netherlands British Chamber of Commerce (NBCC, the "delivery partner" of this initiative), who say that there is a strong appetite among farmers and agri-tech companies and researchers from both Wageningen University & Research and Technical University Twente and 'Foodvalley' region of East Netherlands to build links that transcend the political discussions.
Remco Lucassen says: "Businesses want to work with companies in the UK and we see participation in REAP as a good platform for this. With so much uncertainty at the current time it is even more important to build up personal links and trust for future cooperation."
A delegation coordinated by Agri-TechE visited the St Louis agri-food ecosystem, located in the heart of US agricultural production, in February 2020. It was a success and the Missouri Agri-Tech Connect Programme is planning for 2021.
Mark I Sutherland, CMO of Missouri Partnership, comments: "The 2020 mission was incredibly well received across the state. The meetings were robust, and they built on our 2019 agri-tech mission to the UK where statewide leaders learned first-hand just how much our two ecosystems have in common.

"There is a strong desire to continue these missions long-term and find more ways for us to partner on the future of agriculture and food. There are a number of ongoing projects in both directions that were spurred by our interactions including expansions, investments and collaborations."
Across in Asia, Professor Kyeong-Hwan Lee, of Chonnam National University, South Korea, is keen to encourage members of the Agri-TechE ecosystem with a launchpad to the region.
Professor Lee served as a director of the Agricultural and Robotics and Automation Research Center, which was established by the Ministry in 2014 and is creating a pilot test farm in Chonnam province as the first step toward building an agri-tech science park.
Professor Kyeong-Hwan Lee comments: "South Korea can be a base camp to enable UK companies to develop technology for Asian countries.

"I think South Korea has good resources to develop agri-tech and become the hub for agri-tech in Asia. Our area, Chonnam province and Gwangju city, is the core of agriculture production and the national research centre of artificial intelligence will also be founded here.

"European companies can develop core technology by cooperating with several international companies in Korea and testing it under local conditions that are typical of the Asian climate, soil, and crops."
Dr Clarke concludes "We hope these exciting new initiatives we are announcing today will provide value to our members to access new market opportunities and gain new insights into best practice on farm. Connecting with best-in-class globally is the way to tackle the challenges facing agriculture and we are proud of our new partnerships
Find out more about REAP at reapconference.co.uk.
Image: Belinda Clarke, Director of Agri-TechE, and Dennis Donohue, Director of WGCIT.
Agri-TechE is a business focused membership organisation, supporting the growth of a world-leading network of innovative farmers, producers, scientists, technologists and entrepreneurs who share a vision of increasing the productivity, profitability and sustainability of agriculture.
Together we aim to help turn challenges into business opportunities and facilitate mutually beneficial collaboration.