Darktrace in 'Sunday Times Tech Track 100' for third year running
---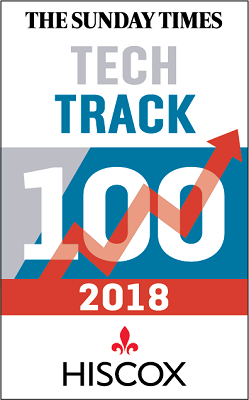 World-Leading Cyber AI Company Named One of Britain's Fastest Growing Tech Companies
Darktrace, the world's leading AI company for cyber defense, has today announced that it has secured a top ten position in The Sunday Times Hiscox Tech Track 100 list, for three consecutive years.
The prestigious list ranks the UK's top 100 private equity companies with the fastest-growing sales. Darktrace has grown rapidly since being founded in 2013, achieving 100% revenue growth year-on-year and securing contracts with a total value of over $400 million. Now valued at over $1.25 billion, Darktrace has cemented its position as the de facto AI company for cyber security.
Steve McGerr, Head of Direct Commercial at Hiscox Insurance UK, the title sponsors of the Tech Track 100, congratulated all the companies on the list: "Tech businesses in Britain are thriving thanks to the fearlessness and determination of those that run them. We have great admiration for the talented entrepreneurs that make up the companies on this year's Tech Track 100."
"To be consistently named one of the top ten fastest growing companies in the UK is testament to the fundamental power of Darktrace's artificial intelligence. In just five years, our Enterprise Immune System is fighting unknown, stealthy cyber t
To read more information, click
here.
Darktrace is the world's leading AI company for cyber security.