Hewitsons LLP sponsors 2018 Cambridge Innovation Summit
---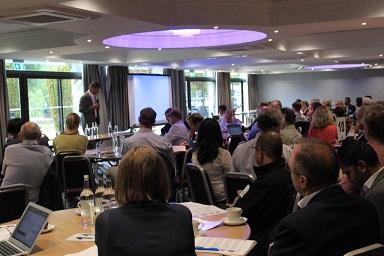 Hewitsons LLP is delighted to have sponsored the third annual Cambridge Innovation Summit, which took place on 11 July.
The Cambridge Innovation Summit brought together over 100 leading thinkers about innovation processes from businesses and other organisations in the USA, Russia, Japan, Australia and across Europe. Delegates from all of the consortia run by the Cambridge-based Centre for Business Innovation (CfBI) and invited guests worked together on challenges and opportunities which they are experiencing in the innovation landscape.
There were sessions on 'Global Innovation Processes' (with discussion leaders from Apple, Facebook, 3M and Lloyds Bank), 'Innovation for Health and Wellness' (with discussion leaders from Amadeus Partners, the NHS, Astra Zeneca, Philips and Illumina) and 'Innovation Made in Cambridge' (with Professor Tim Minshall leading the discussion), and table-top demonstrations from a number of Cambridge-based innovators.
The world-class networking opportunity culminated with dinner in Trinity Hall addressed by Jane Osbourn of Medimmune on the theme of 'Why Cambridge for Innovation?'
The following day CfBI consortia for 'Open Innovation Meets Big Data', 'Medical Adherence/Digital Health', 'Nano-Carbon Enhanced Materials' and 'Corporate Venturing Leadership' met in private sessions in the Cambridge region.
Andrew Priest, Head of Technology at Hewitsons, says "It was a privilege to once again sponsor and take part in the Cambridge Innovation Summit. The event offered a great insight into why Cambridge continues to attract so many technology businesses and entrepreneurial individuals, offering innovative solutions across many different technology sectors. On the evidence of what we have seen and heard today, Cambridge will continue to be a 'hotbed' for technology innovation for many years to come."
Peter Hewkin, CEO of the Centre for Business Innovation, says "We are delighted to bring together the members of CfBI's eight international consortia in Cambridge (UK) each year to inspire, inform and engage them in one of the world's best innovation clusters."
Planning has already started for Cambridge Innovation Summit 2019.
We pride ourselves on delivering an outstanding service to a wide range of individuals, businesses and institutions including charities, educational and sports bodies. The firm's size and breadth of specialisms means each client receives the focus it requires.
We operate UK wide and have worldwide reach via our network of independent law firms, LawExchange International.