Redeveloped Cambridge Museum of Technology launches
---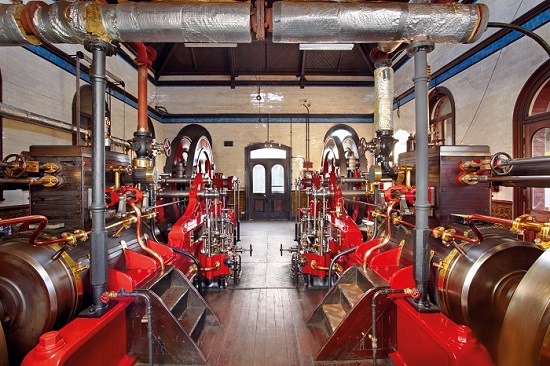 On Saturday (5th October 2019), Cambridge Museum of Technology officially launches following a five-year redevelopment.
Cambridge Museum of Technology is the home of our industrial heritage. The Museum is proud to invite visitors of all ages to rediscover Cambridge's most important industrial heritage site following a five-year £2 million redevelopment project supported by the National Lottery Heritage Fund, Historic England, and other funders. It will launch to the public on Saturday 5th October 2019.
The Museum's redevelopment has included installing new displays, improving access and facilities, adding a new education and community space, and introducing an exciting programme of events throughout the year.
What can visitors see?
The historic Pumping Station, which was built in 1894 as Victorian Cambridge's ingenious solution to the problems of waste and sewage disposal. The Pumping Station features a huge historic boiler and magnificent Hathorn Davey steam engines – the last of their kind. These will run on special event days from 2020 to recreate the smells and sounds of the Pumping Station when it was in operation.
Displays on Cambridge's forgotten industries, such as ironworking and brewing. These will paint a different picture of Victorian Cambridge than the more familiar colleges and cloisters. The stars of these displays include the first steam engine purchased by Chivers and Sons to provide mechanical power to their jam-making factory in Histon and the lathe that Mackay's used to make elements of the radio telescope array that Jocelyn Bell and Anthony Hewish used to discover rapidly rotating stars named 'pulsars'. Several of the exhibits are push-button operated, so visitors can see the technology in action.
New exhibitions on Pye and Cambridge Instrument Company, which were local companies with international reputations for innovation and excellence. The displays feature communications devices dropped to the French Resistance during the Second World War, early affordable televisions that brought world events to the masses in colour, and a medical instrument that revolutionised the study of the heart and the treatment of heart disease.
Historic machinery in the grounds of the Museum for people to touch and explore. Visitors can also bring their own picnic and enjoy our outdoor spaces with views of the River Cam and our Victorian buildings.
Hands-on exhibits for younger visitors, which include an interactive model of the Pumping Station (complete with sewage smells!), regularly changing museum trails, dressing up, lawn games, activity stations with colouring in and feely boxes, and toolkits to help kids explore the Pumping Station.
Letterpress printing in the Print Room, which is open on Sunday afternoons. The displays include printing equipment from early hand operated presses to power machinery, including hot metal casters, and visitors can make their own print.
 
What is happening on Saturday 5th October?
Saturday 5th October is the Museum's official public launch. The new displays on Cambridge's forgotten industries will open for the first time since the Museum's redevelopment and visitors will be able to see engines that have never been displayed before.
In addition to the Museum being fully open, there will be a steam traction engine for visitors to enjoy, a new museum trail for children, and drop-in family activities. Food and drink will be available at Othersyde in the Engineer's House.

The Museum is open Wednesday to Sunday, 10am to 5pm.
www.museumoftechnology.com
Facebook:  /CambridgeMuseumofTechnology
Twitter:  @CamTechMuseum