Fred. Olsen Travel's new outlet launches at Cambridge International Airport
---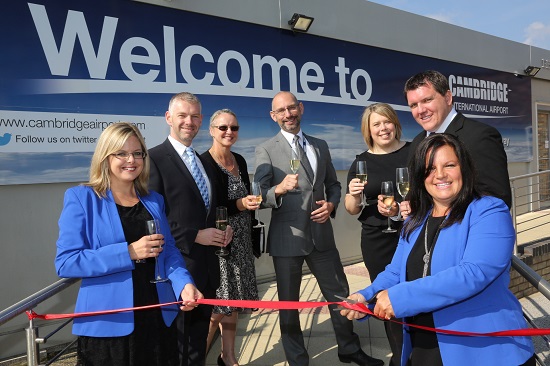 Specialist travel and cruise agency, Fred. Olsen Travel has launched its brand new travel outlet at Cambridge International Airport.
Located in the check-in area of the airport's newly refurbished terminal and accessible to everyone, not just those flying from Cambridge, the outlet was formally opened by Paula Robertson, Fred. Olsen Travel Brand Manager.

The brand new store at Cambridge International Airport is Fred. Olsen Travel's first in-airport outlet, its ninth in East Anglia and its first in Cambridge. It will offer tailor-made holidays to destinations across the world as well as a complete business travel service.

Fred. Olsen Travel's managing director, Steve Williams, commented, "We are delighted to launch our travel booking service for holidaymakers and business travellers at Cambridge International Airport. It makes perfect sense to position our outlet here, offering the area's customer-base fantastic prices and expert advice on worldwide destinations leaving from Cambridge or other UK airports."

Cambridge International Airport's head of business & route development, David Surley, added, "Fred.Olsen Travel's outlet is a great addition to our excellent facilities and the perfect environment for customers to not only enquire about travel to destinations serviced directly from Cambridge, but anywhere in the world. We look forward to a long and successful relationship with the Fred. Olsen team."

Image: (l-r) Zoe Parkin (Fred. Olsen Travel, Senior Sales Consultant), David Surley ( Cambridge Airport, Head of Business & Route Development), Glynis King (Cambridge Airport, Marketing Manager), Jeremy Moore (Cambridge Airport, Business Development Manager), Hiedi Hutchinson (Fred. Olsen Travel, Marketing Manager), Paul Hardwick (Fred. Olsen Travel Group Retail Manager), Paula Robertson (Fred. Olsen Travel, Branch Manager)


For more information or to book, visit www.travelwithfredolsen.co.uk   or www.cambridgeairport.com

 

Cambridge Airport

Cambridge Airport is part of the Marshall Group of Companies, a privately owned family business, employing over 4,000 people with a turnover exceeding £1B, managed by the Marshall family. The business was founded in Cambridge in 1909, and entered aviation in 1929.

Although Cambridge Airport is an important gateway for the East of England, with a strong focus on Cambridge and its business, academic and industrial sectors, the airport is also ideally positioned for easy access to London with just under an hour's drive to the Canary Wharf and East London.

The airport is currently experiencing growth in the Passenger airline and Executive Jet sectors and recent new airline and tour operator services including the UK, the Channel Islands and destinations within Europe, the airport has undergone an extensive upgrade in passenger facilities.

With a 1965m/6447ft runway accepting aircraft up to Boeing 757 or Airbus 320 and all regional jet types, it is suitable for short to medium haul passenger airline services, with 24/7 capability. It boasts CAA Category 7 Fire & Air Traffic Control status and has full navigational aids and communications, which include radar approach coverage up to 30nm and GPS approaches, which complement an ILS system

www.cambridgeairport.com
 

Fred. Olsen Travel

Fred. Olsen Travel, a member of ABTA, ATOL & IATA is completely independent and holds a prestigious reputation within the travel industry and throughout East Anglia.  A world class provider of travel products and services, providing outstanding customer service, unrivalled choice and exceptional quality and value for money.

www.fredolsentravel.co.uk

*******

Media contacts:
Frances Amissah, Kylie Jenkins or Sara Whines at Four bgb
Email: frances.amissah@fourbgb.com / kylie.jenkins@fourbgb.com / sara.whines@fourbgb.com  
Tel: 020 3697 4200

_______________________________________________________________
Founded in 1909, the Marshall Group has a turnover of £2.5bn and over 5,700 employees. Headquartered on a 900-acre site in Cambridge, Marshall has three principal arms to the business: Aerospace and Defence; Property; and Ventures.