Leading drug discovery company moves to Granta Park
---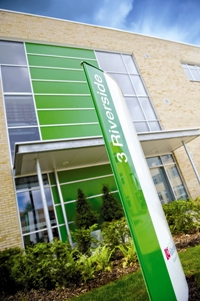 Drug discovery and development company Biotica has taken 5,000 sq ft at Granta Park's Riverside development.
The company will be continuing its work as a leader in the discovery and development of novel polyketide therapeutics to create new medicines for serious diseases.
Says the company's Chief Executive Officer Edward Hodgkin: "The space in Riverside 3 is well-suited to Biotica. We have been able to fit it out to our specific requirements, and we have the flexibility to acquire additional space as we continue to grow."
Says Granta Park Estate Director Roz Bird: "We are delighted to welcome Biotica to Granta Park and look forward to working with them as part of Granta Park' s special science community. Biotica's bespoke laboratory and office fit out of 5,000 sq ft within 3 Riverside demonstrates the flexibility of the Riverside buildings and is testament to the original development concept which was to create flexible R&D accommodation for high-growth companies."
Granta Park's Riverside development offers R&D and office units to let from 2,640 to 27,000 sq ft. Managed and operated by MEPC, Granta Park is located south of Cambridge in the heart of the Cambridge Science Cluster. Companies on the science park include MedImmune, Pifzer, Intergence, Softwerx and TWI.
To find out more about opportunities at Granta Park visit www.grantapark.co.uk
To read more information, click
here.
BioMed Realty has been part of Cambridge's world-class life science community since the acquisition of Granta Park in 2012. Granta Park is a 477,230 square foot business estate in one of the most reconised areas for science success globally and is home to leading companies, including Sosei Heptares, Astrazeneca, Illumina, PPD Global, and One Nucleus.