Cordic Ltd revolutionises the taxi industry
---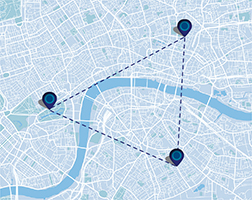 Cambridge-based booking and data despatch system provider Cordic is revolutionising the taxi industry with its new Soft Merger Gateway Module.
This new module allows multiple cab companies to virtually merge together, which in turn provides a larger combined fleet and wider coverage.
Cordic's Commercial Director, Fara Arani says: "The Cordic Soft Merger Module is a ground-breaking, unique tool which could be a real game changer in the industry.
"The Soft Merger Module allows each cab company to have control over their own business, pricing structure and drivers, allowing them to put their excess jobs into a sharing job pool. Hence, they can now take bookings from places which they were unable to provide services before", says Fara.
Not only does this new module allow each company to cover a much wider area, it also reduces dead mileage to reduce carbon footprint of each fleet.
Customers can get from point A to B safely and on time, while utilising their local taxi firm. Not only can customers pay by cash, credit card, or an account set up with their local taxi firm, they will also receive a text message when the driver is on their way. The message includes the drivers' licence ID and photo profile. All vehicles are tracked through the system and via the app, enabling friends or family to track their whereabouts.
Cordic's Customer Liaison Manager, Martin Carr says: "The Cordic Soft Merger Module is a great tool for your local cab company, it reduces the time it takes to get your cab to your door, and keeps your business local."
Over twenty individual cab companies with a combined fleet of over 7000 cars have joined forces in London since the launch of Soft Merger Module in September. This has created the largest private hire fleet in London after UBER, and more fleets are joining as the benefits have become more apparent with a much wider spread of vehicle availability across London.
To find out more about how the Soft Merger Gateway Module can help your business grow, contact: sales@cordic.com or call (01954) 233233.
About Cordic
Formed in 2002, booking and data despatch system provider Cordic Ltd are dedicated to quality, state-of-the-art fleet management solutions targeted at the taxi, private hire and courier service sectors. Since introducing the world's first GPRS-based mobile data despatch system, Cordic is the industry leader in innovative technologies for the taxi and private hire sector. Cordic has teamed up with wireless operators, hardware manufacturers and software vendors, and has strategic alliances with Microsoft, Dell, credit card and software navigation companies as well as mobile network providers such as Vodafone, O2, and BT. Cordic's core products operate over public mobile networks and incorporate cutting edge security and encryption technologies to provide reliability and secure data despatching, while providing the most cost effective solution and best user experience. Our products and services are designed to help operators address the challenges of an ever-changing industry.  For more information, visit www.cordic.com
Cordic provides a ground breaking data despatch system combined with street navigation and satellite tracking for the transport industry.