Volunteers' lunch is a story to dine out on!
---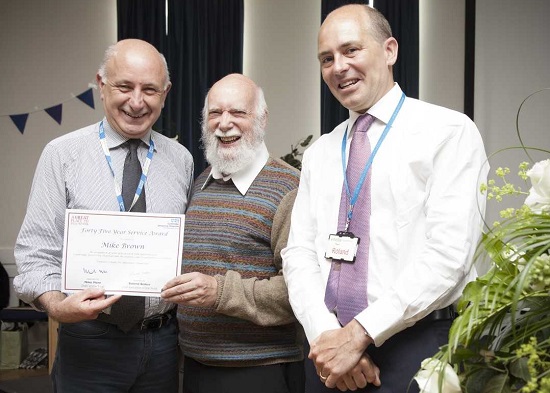 National Volunteers Week turned out to be a recipe for success at Cambridge University Hospitals.
Volunteers were invited to a celebratory lunch last Tuesday (5 June), where some received long service certificates from Chief Executive, Roland Sinker, and Chairman, Mike More, in recognition of their incredible efforts.
Among those congratulated was stalwart volunteer Mike Brown, from Cambridge, who has clocked up an incredible 45 years entertaining patients via Radio Addenbrooke's.
He has worked at old Addenbrooke's and new Addenbrooke's and is currently best known for presenting Merry-Go-Round between 5pm and 7pm – mirroring the times of his very first show!
The event, at Addenbrooke's Frank Lee Centre, was just one of a number aimed at celebrating the work of the hospital's 500 volunteers.
Staff, patients and visitors have had the chance to thank all volunteers by writing personal messages on dedicated "feedback posters", dotted around the hospitals.
Yesteday (Thursday, June 7) the Trust held a Volunteers' Fair to showcase partner organisations such as Age UK; Carers' Trust; Forever Active falls prevention; the Alzheimer's' Society; SSAFA armed forces charity; and Macmillan
Chief Nurse Ann-Marie Ingle described the volunteers as a "small army". Tasks they undertake include guiding visitors and patients around the hospitals; socialising and running errands for patients on wards; meeting and greeting outpatients; helping in Macmillan clinics and supporting hospital chaplains.
The Royal Voluntary Service is known for running a café and taking trollies with various essentials around wards, and the hospitals' 13 pat dogs and their handlers are always raise a smile with patients
Ann-Marie said: "I would like to say a huge 'thank you' to all those committed volunteers who give their time to support us and who make such a positive difference to our patients. A smile, kind greeting and offer of practical help can have such a reassuring impact."
Voluntary services Manager, Maggie Brown, added: "Our volunteers come from all backgrounds and help for all sorts of reasons. One recently told me his work was in recognition that the hospital saved his mother's life."
Image: DJ Mike Brown being congratulated by Mike More (left) and Roland Sinker (right); some of the volunteers tucking into their lunch; Mike More chatting with volunteers; Roland Sinker chatting with volunteers.
To read more information, click
here.
Cambridge University Hospitals is one of the largest and best known trusts in the country. As the local hospital for our community we deliver care through Addenbrooke's and the Rosie hospitals.
Cambridge University Hospitals NHS Foundation Trust