Dr Hood goes on to say "We have used genome/phenome analyses of 5000 individuals providing the longitudinal data clouds that generated a broad spectrum initial proof of principle for this vision.  In this context I will discuss the "science of wellness and prevention" that emerged from this effort.  I will also discuss the challenges that exist in bringing this vision to contemporary 21st century medicine". 
Phenome Health is a non-profit organization developing the Beyond the Human Genome (BHG) Project, based on the science of wellness, which will sequence the genes and generate the longitudinal phenomes of one million people over 10 years. Phenome Health is well positioned to deliver a new paradigm in healthcare based on prediction, prevention, personalization, and participation, and is intended to address several healthcare challenges: significantly improve health outcomes; facilitate brain health; increase cost effectiveness; reduce the chronic disease burden; promote healthy aging; and enhance U.S. leadership in medical innovation.
About the speaker: Leroy (Lee) Hood, MD, PhD, CEO
A world-renowned scientist and recipient of the National Medal of Science in 2011, Dr. Leroy Hood co-founded the Institute for Systems Biology (ISB) in 2000 and served as its first President from 2000-2017. In 2016, ISB affiliated with Providence St. Joseph Health (PSJH) and Dr. Hood became PSJH's Senior Vice President and Chief Science Officer. He is also Chief Strategy Officer and Professor at ISB. Dr. Hood is a member of the National Academy of Sciences, the National Academy of Engineering, and the National Academy of Medicine. Of the more than 6,000 scientists worldwide who belong to one or more of these academies, Dr. Hood is one of only 20 people elected to all three. He received his MD from Johns Hopkins University School of Medicine and his PhD in biochemistry from Caltech. Dr. Hood was a faculty member at Caltech from 1967-1992, serving for 10 years as the Chair of Biology. During this period, he and his colleagues developed four sequencer and synthesizer instruments that paved the way for the Human Genome Project's successful mapping and understanding of the human genome. He and his students also deciphered many of the complex mechanisms of antibody diversification. In 1992, Dr. Hood founded and chaired the Department of Molecular Biotechnology at the University of Washington, the first academic department devoted to cross-disciplinary biology. Dr. Hood has co-founded 17 biotech companies including Amgen, Applied Biosystems, Rosetta and Arivale. His many national and international awards include the Lasker Prize, the Kyoto Prize, and the National Medal of Science. Currently, he is the CEO of Phenome Health and Co-Founder and Professor at the Institute of Systems Biology in Seattle.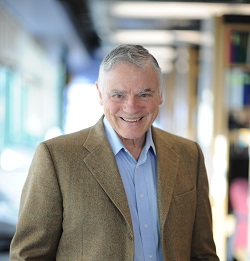 Please click the link below to join the webinar:
https://sanger.zoom.us/j/96978761178?pwd=WVV2b2N5ZTVCS2Z3Y1lhUGFMaXVCZz09 [sanger.zoom.us]
Passcode: 931653